Is there anything more relaxing than the sound of a babbling brook? You can bring that soothing natural sound into your living room or office space with one of our custom water features.
Water features and fountains are elegant additions to any decor. We at Aquarius Aquariums can meet the challenges of the most complex water feature. From design to installation, our expertise is vital to providing that perfect balance of beauty and seamless function to your water feature.
Sometimes you just need and aquarium for a little while. Whether you need one for a special event, a film sequence or any other reason, we can get you what you need.
We can find you that perfect combination of fish for your occasion. We'll bring them to you, take care of them while you have them, and take them back home when you're done.
Aquarius Aquariums has 30+ Years experience providing aquariums and related equipment for use in Movies and commercials we understand what you need and how your business works.
Lobsters are always a popular item on anyone's dinner plate. If you sell lobsters you want them to stay healthy until they are sold and you want them to be displayed in an attractive display case.
Aquarius Aquariums installs and maintains all brands of lobster tanks. we can also build a custom filtration and cooling system that will keep these crustaceans alive and active for a long, long time.
We provide Lobster tank Services to Supermarkets, Restaurants, and Seafood stores We Specialize In Marineland Mars systems and Stark systems.
Large commercial and research installations require exacting attention to detail. All systems must work perfectly. The water in each tank must be chemically perfect for the specimens or livestock to thrive.
Aquarius Aquarium's 30+ years of experience is a necessity for these installations. We know that your work depends on the quality of ours and we won't let you down.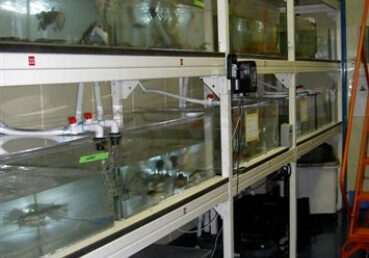 No matter how many tanks you need, or how many different species they will house, Aquarius Aquariums will give you a perfect aquarium installation with custom filtration systems and more.
If you need your tanks to work for you, then we are the people you need to talk to.